Convenient VIP Pickup and Delivery from Your Home or Office. Monday to Friday.
For our registered VIPs there is no more waiting in queues, loosing dockets or fumbling with dry cleaning on the way to the car. Quality Dry Cleaners VIP service is tailor made to fit in with your hectic life style without negotiating our quality service.
Our VIP bag allows us to identify each customer and directly charge their credit card with no fuss. Quality Dry Cleaners have a flexible schedule that enables us to pickup from one destination and drop off at another. Drop off and pickup can be arranged via phone.
This service is only available Monday through to Friday. Surcharge for same day service +50%.
Become a Quality Dry Cleaning VIP CUSTOMER!
In order to enter into our customer service system you must fill in a one off VIP service registration form and pay a deposit of $10 (cost of the VIP bag which is fully refundable at anytime as long as the bag is returned)
Terms
Once we have received your VIP service registration form we then enter it into our customer service system along with your requests which are permanently saved on your account. Your VIP bag will only have your first and last name followed by your customer number- no other personal details will be included
If you live in a secure apartment block or home and you are unable to be at home for your pickup or delivery we can leave you garments in a dry area (with your permission) ready for when you return home. If you would prefer us to leave it with a family member, cleaner or concierge that can also be arranged but only with your permission.
If you contact us prior to 9am we can schedule your pickup for later that day and deliver 48 hours later. Anytime after 9am we can ensure that we will try our best to fit you into our drivers schedule if he is in or near your area otherwise it will be the next business day.
Once we have collected your VIP bag it is taken to the Quality Dry Cleaners store at 156A Victoria Road Gladesville and we use your ID card to identify who you are and all your personal details/requests. Once all your garments have been entered into our system we then will charge you via your credit card and the invoice and credit card receipt will be delivered with your garments.
If any garment/s requires special attention (deluxe service),are stained, require repairs or alterations please pin note onto garment specifying your request.
Feel free to drop off and pickup your garments from our Gladesville store 156A Victoria Road Gladesville with your VIP bag for a no fuss experience, drop off garments before 10am and they will be ready for pickup at 4pm the same day (conditions apply).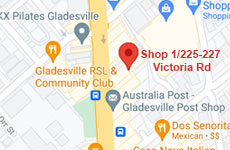 Shop 1 / 225 to 227 Victoria Rd Gladesville 2111
Phone: (02) 9817 5493
View Larger Map
71 Great N Rd, Five Dock NSW 2046
Phone: (02) 9713 7458
View Larger Map