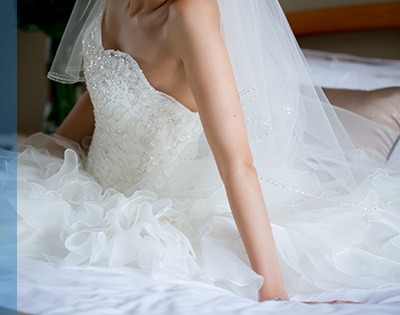 Quality Dry Cleaners the bridal gown specialists has been providing cleaning, preservation and restoration services to textile conservators since 1994. In 1994, the company started offering its services and archival products to the public.
We have a dedicated department to only clean bridal, christening, communion and social gowns. Quality Dry Cleaners uses solvents and wet-cleaning methods developed for cleaning fragile textiles and gowns with beads, sequins and glued-on ornamentation which cannot be safely cleaned in perchloroethylene (a common solvent used by dry cleaners). We use state-of-the-art technology and equipment including custom made devices only used by Quality Dry Cleaners.
Quality and Caring
We carefully inspect and prepare your bridal gown before cleaning a number of procedures are followed before the cleaning process begins this includes.
Checking for age spots, wear areas, any and all needed repairs; loose buttons or beads, open seams, tears, damaged zippers etc.
Beads and other fancy and delicate trims are tested for "clean-ability" to ensure none are damaged during the cleaning process.
Removing or reinforcing & covering buttons, so they don't become damaged during cleaning.
Your gown is then professionally spotted and gently cleaned alone in crystal-clear solution for a brief period. It's checked again, and if necessary, its post spotted, and then skillfully hand finished. Any other finishing touches, such as repairs, re-sewing delicate or fancy trimmings back onto the gown and uncovering buttons, are done during this time. We then perform another complete inspection of your gown to insure that it is in perfect shape and ready for long-term storage.
Your gown is cushioned with a special acid-free tissue to help maintain the designers' delicate design and carefully folded, wrapping it in a special 100% cotton liner before it's placed in a museum quality acid-free storage box, then wrapped in another special 100% cotton outer cover. This outside cover is optional; however our Cleaners include this added protection as part of their Exclusive Bridal Gown Preservation Process. You also receive a Bridal Gown Preservation Certificate.
Types of Preservation
It is very important that you keep your preserved gown in a cool and dry place. Do not store it in the attic or basement. The attic heat could promote yellowing and the basement dampness can cause mildew. When you wish to inspect your gown, be sure your hands and the surrounding areas are clean. It's best to clean and preserve your gown right after the wedding. Over time, stains become more difficult to remove, the sooner it's properly cleaned and preserved the better results you'll have. Unprotected, it will fade and yellow, and eventually, it can deteriorate, and become brittle in spots.
We currently offer three types of preservation (storage) methods:
Museum quality storage "archival box" and fold method.
Acid Free quality storage box and fold method
Museum quality muslin hanging (storage) method: (MUSLIN 400U)
Quality Dry Cleaners museum quality storage, only materials meeting the specifications of textile conservators and major museums are used. Materials such as boxes are solidly blue, gray, tan or white exterior and interior, are completely free from acids, lignin and other metallic or sulfide impurities. The tissues we use are pure white, made from flax fiber, completely acid-free and heavily buffered. A un- buffered tissue of neutral pH is used for wool or silk textiles. This method of storage provides long-term stability and access for managing the textile, giving the customer complete quality control over the aging process.
Services
Hand clean your precious wedding gown, evening wear and other delicate garments (Deluxe Service).
Complementary pick-up and delivery within Sydney from your Hotel, residence or work place.
Complementary Courier service for interstate clients.
Custom made preservation box (heirloom preservation) for all types of gowns.
Prices
Factors that will influence the final price include:
Restoration – replacement of beads or repairs along hemline.
Crystals, sequins, beads or jewellery embellishments.
Type of fabric.
Degree of harsh staining – Dirt along hemline, food/alcohol & fake tanner.
Type of preservation box recommended or requested by bride.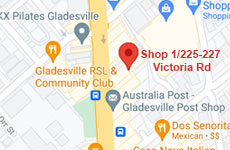 Shop 1 / 225 to 227 Victoria Rd Gladesville 2111
Phone: (02) 9817 5493
View Larger Map
71 Great N Rd, Five Dock NSW 2046
Phone: (02) 9713 7458
View Larger Map